35 Best Places To Visit In Andaman In 2020 For A Mesmerizing Holiday Experience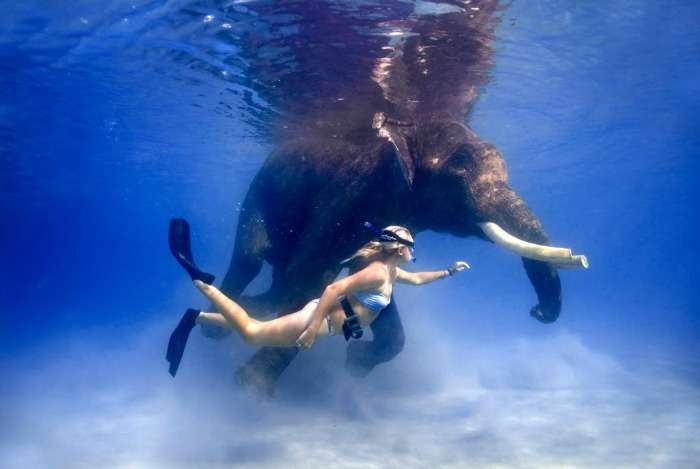 If you've got sunny skies, golden beaches, sparkly seas and quaint environs on your mind, get your bags packing for a trip to Andaman! Owing to the ever-welcoming weather and the serene shorelines there's a wide array of fun and outdoorsy things to do in Andaman. Not to mention scrumptious seafood and the long list of mind-boggling places to visit in Andaman that'll make your holiday absolutely unforgettable. A haven for honeymooners, an adventurous spot for diving lovers and an idyllic island for a peaceful family getaway. These places will greet you with charming experiences on your Andaman holiday. Though it is a year-round destination, the best season to visit Andaman is the winters.
Top 35 Places To Visit In Andaman In 2020
While you're planning your next serene holiday to the charming land of Andaman, make sure you don't miss out on the famous and offbeat places for a unique experience like never before! In the list below there are some amazing places to visit in Andaman for honeymoon too! Read on.
Cellular Jail National Memorial
Radhanagar Beach
Havelock Island
Mount Harriet And Madhuban
Museum Circuit
Rajiv Gandhi Water Sports Complex
North Bay Beach
Seafood Restaurants
Mahatma Gandhi Marine National Park
Diglipur
Chidiya Tapu
Ross Island
Neil Island
Baratang Island
Elephant Beach
Barren Island
Vijaynagar Beach
Forest Museum
Cinque Island
Long Island
Jolly Buoy Island
Viper Island
Samudrika Marine Museum
Ross and Smith Island
Kaala Pathar Beach
North Bay Island
Corbyn's Cove Beach
Limestone Caves
Mud Volcanoes
Red Skin Island
Little Andaman 
Barren Island Volcano
Wandoor Beach
Rutland Island
Saddle Peak National Park
1. Cellular Jail National Memorial
I know, this may sound a bit dark and depressing but you wouldn't regret one moment of your time spent here. The dreadful word "Kaala Pani" that we've heard since our childhood actually referred to this place. Yes, it's the former British prison that is now a shrine to the political dissidents it once jailed. Even though several parts of it have been destroyed by the Japanese during the World War II, it still stands tall reminding us of our brave and gallant forefathers.
---
Andaman Holiday Packages On TravelTriangle
Indulge in snorkeling or scuba diving to see magnificent coral reefs or stay in beach resorts at Havelock island. Visit Port Blair, Ross Islands, Neil Islands, Gandhi marine park, and Cellular Jail. Book memorable holiday packages on  TravelTriangle.
---
2. Radhanagar Beach
It's been over a decade since this beach has been crowned as 'Asia's Best Beach' by TIME magazine, however, it's charm hasn't dropped one bit. Famed for the white sand, breathtaking sunset and turquoise blue waters, Radhanagar beach is amongst the most beautiful places to visit in Andaman and one of the best places in India to visit before you turn 30 . Surely, you'll end up clicking thousands of selfies as the landscape is just picture-perfect!
Location: Havelock Island, Andaman
3. Havelock Island
Havelock Island is like the Holy Grail of scuba diving and snorkelling! And it is also one of the most popular things to do in Andaman among travellers. The Barefoot Scuba Resort is where you'd want to go if you're a scuba enthusiast. Whether you're a rookie, a professional diver, looking for some fun diving or want to get PADI certified Barefoot has a hell lot of options for you. This is surely one of the best places to visit in Andaman and a must include in your list!
4. Mount Harriet And Madhuban
Trekking is another awesome thing to do in Andaman especially if you're travelling with friends. And if you are trekking buff, then you're going to love this 16 kilometre trek from Mount Harriet to Madhuban. It's a gorgeous route where you can witness exotic flora and fauna of the land amidst spectacular sceneries. Elephant safari is also an option to explore the forest of Mount Harriet.
5. Museum Circuit
places to visit in Andaman. Take a tour down the Anthropological Museum giving insights into the lives of the indigenous tribes of the place and the Samudrika Naval Marine Museum in Port Blair that offers glimpse into the biodiversity of the marine life.
A museum tour is a great way of getting to know the history and culture of a place. And since these islands are soaked in history you'd find the museums to be few of the greatest
6. Rajiv Gandhi Water Sports Complex
Banana rides, parasailing, jet skiing, rowboat paddling, speed boat rides, you name it and you got it here at Rajiv Gandhi Water Sports complex. To all the water babies out there: coming here is the first thing to do in Andaman right after you land at Port Blair!
Regardless of whether you've tried your hands on watersports or not, the service providers do a great job in giving instructions and providing safety equipment.
7. North Bay Beach
The North Bay Beach you can walk under the sea and finally visit 'Octopus's Garden'! Colourful school of fishes, coral reefs and various other marine life forms you've never seen before would be swimming right by you. After all, North Bay Beach is the finest place for sea walking in Asia.
Also, you don't have to know anything about swimming for this activity! You can normally breathe under the glass helmet. In fact, this is a convenient location for this activity as it is safe and there is no air pressure that bothers
---
8. Seafood
Holidaying on a tropical island, if seafood isn't on your priority list, you are missing out on super awesomeness! Check out these restaurants for the freshest and the finest fare in Andaman: Red Snapper, Lighthouse Residency, Ha-O and Mandalay.
9. Mahatma Gandhi Marine National Park
places to visit in Andaman Islands?
Covering and area of 280 sq km with 15 islands of mangrove creeks, tropical rainforest and reefs supporting 50 types of coral, Mahatma Gandhi Marine National Park is the go-to place for Snorkelling, glass bottom boat rides and scuba diving. Are you ready to visit one of the most enthralling 
The National Park consists of 15 islands and covers an area of 281.5 km². Being an ecotourism spot, you'll find this place at its most pristine form.
10. Diglipur
place to visit in Andaman.
Home to Andaman's highest peak, the famous turtle nesting site, crocodile sanctuaries and a network of caves, Diglipur is the northern most town and a nature lover's favourite
This island city is among the top tourist destinations of Andaman and provides easy access to various travelers' needs right from accommodation to sightseeing points. This can be one of the most interesting places to visit in North Andaman.
11. Chidiya Tapu
Haven of hundreds of species of birds, including parakeets, sea eagles, emerald doves and various others, Chidiya Tapu is a tranquil little place perfect for bird watching and spending few hours amid the glory of nature.
The sunsets here are mesmerizing and must not be missed. The place is 25 km away from main city of Port Blair and can be easily reached by road. Visit Chidiya Tapu in summers as the sky is clear.
12. Ross Island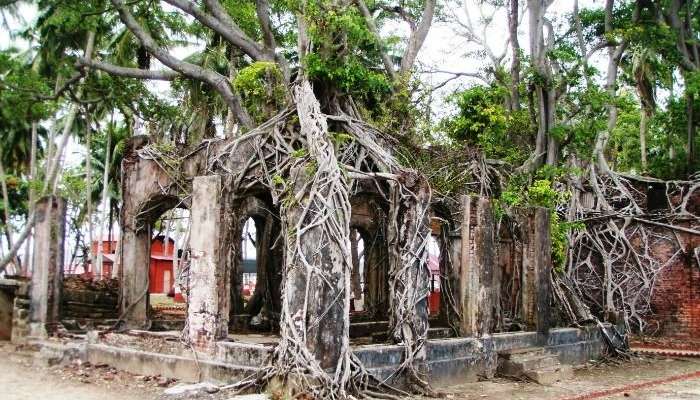 Back in the days, this place was fondly called the 'Paris of the East' by the Brits. But all its glory and tropical beauty was wrecked by the earthquake of 1941 and the Japanese invasion. There are remnants of the English architecture and machine-gun nests that are great fun to poke a finger in. Don't forget to include this place to your list of places to visit in Andaman!
When to visit: Andaman has a pleasant weather all throughout the year but the most apt time to visit the islands would be October to April. Monsoons hit the shore in the month June.
13. Neil Island
A thrilling holiday experience awaits you in the majestic bay of this island with several fishing boats lined up. A perfect stop for snorkeling and exploring the diverse marine life here, this place is filled with surprises! If it's some scuba time you crave, then this is surely the kind of destination you've been looking for in Andaman. If you are looking for the places to visit in Andaman in 5 days, then this is it! Gear up fellas!
14. Baratang Island
While you may be wondering what will you do in an island like this on your next visit to Andaman, the enchanting beauty of this place will sweep you off your feet in merely the first sight! The blessed vibes of this place and gorgeous wilderness along with the local tribes residing here will be more than a unique experience!
15. Elephant Beach
If you are looking for top places to visit in Andaman in 3 days, then a visit to the Elephant Beach is a must. All the adventure seekers are in for a treat as this beach is known for water sports and Andaman sightseeing tour. Situated in Havelock Island, one can take a jetty from the main dock and reach the beach in less than half an hour.
Enjoy snorkeling, swimming, and other water activities here. Sea walking is another activity that you can try when you visit.
16. Barren Island
This island has been proven to be the only place with active volcano in the regions of Southeast Asia. Also, the island was featured in the news in 2017 that covered the incident of volcanic eruption that happened here during that time.
This island derives its name from the fact that it actually is 'barren' with no humans inhabiting here due to which one can witness quite a lot of animal species here. On your visit to this island, you can indulge in activities like seaplane ride as well as sightseeing to make the most of it.
17. Vijaynagar Beach
lying in the northeast region of Havelock Island, Vijaynagar Beach is known by the name Beach no. 5 of this island. If you are looking for a place to unwind yourself after a long day, then this beach must be on your list. Moreover, this place is ideal for those who want to boost their Instagram handle, for the view of this place is mesmerizingly picturesque.
Don't forget to witness the jaw-dropping sunrise here. Even though watersports are not arranged here but people visit this beach to enjoy swimming as well as sunbathing. Due to the scenic views as well as calmness, this is one of the best places to visit in Andaman for honeymoon.
18. Forest Museum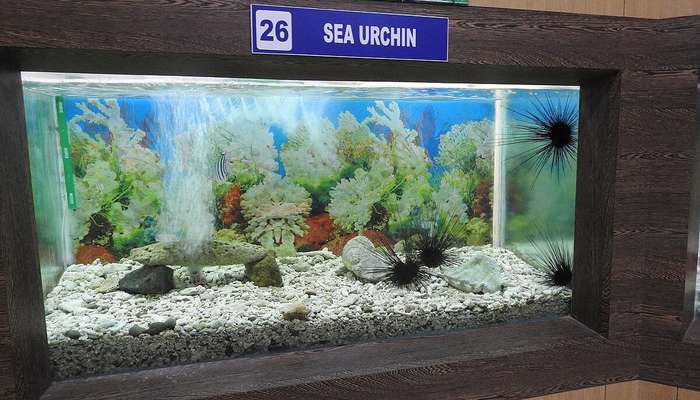 All the things associated with wild animals as well as forests have been showcased strikingly in this museum. Located in Port Blair, Forest Museum is one of the places to visit in andaman with family. Administered by Andaman and Nicobar Islands' forest department, this museum displays various artefacts that have been made out of satin wood, padauk, timber, and oak.
To keep the tourists engaged, a zoological garden and mini zoo have also been established in the museum.
19. Cinque Island
This island is halved into South Cinque Island and North Cinque Island. It is one of the famous places to visit in Andaman, as it is mostly visited by those who want to experience underwater diving. This island lies in the northern region of Duncan Passage and amidst Rutland and Passage Islands.
Cinque Island is also popular because of the fact that it forms a part of Mahatma Gandhi Marine National Park of Wandoor.
20. Long Island
This is a small island in Andaman known for its picturesqueness and has been established as a modernized village with well-maintained environment. The beaches of Long Island are covered with lush greenery and intriguing caves. The beaches that are mostly visited by the tourists here are Lalaji Bay and Merk Bay. People flock in here to get themselves engaged in swimming and snorkeling.
21. Jolly Buoy Island
For all the beach lovers out there, Andaman is a treat to the eyes as there are many white sandy beaches which makes a great place to go and relax. Jolly Buoy Island is one of the best places to visit while looking for a beach to spend the day. Famous for its crystal clear waters and the underwater corals, people love to enjoy a laid back day at this beach.
22. Viper Island
Every attraction in Andaman adds a touch of beauty to the state and to prove this right here is the Viper Island. Considered as one of the most beautiful places to visit in Andaman, the island derived its name from the various vipers found in the region. There are ruins of prison found at the island and it is said that political prisoners were incarcerated here during India's struggle for independence.
Location: 4Kms from Port Blair
23. Samudrika Marine Museum
Andaman island is full of beautiful and heritage places and one of them is the Samudrika Marine museum which is managed by the Indian Navy. This place was built to bring awareness in the society about the marine life. The museum is divided in around 5 sections which also narrates the story of the Andaman islands. Situated just opposite the Andaman Teal House, Delanipur, Port Blair. People who are curious to learn about the abundant marine life should visit this place.
Location: Haddo Road, Port Blair, Andaman and Nicobar Islands 744102
24. Ross And Smith Island
While you will be tired of counting the islands, but still Andaman will never run out of it. Ross and Smith's island are the two twin islands which are joined together to make one single group of islands. Located at the North Andaman which is situated at a few miles away from Diglipur jetty, these islands are genuinely beautiful and can be easily differentiated with other islands. There is a sandbar which connects both the islands and on some occasions it submerged in the water during the high tide and again surfaces up.
25. Kaala Pathar Beach
Situated in Havelock island, Kaala Pathar beach is one of the famous attractions to visit in Andaman. Kaala Patthar is a small beach but doesn't fail to mesmerize the tourists with its beauty. Adorned by the gleaming white sand and the green waters, this place is quite an extraordinary location to be explored. This beach is not recommended for swimming, but one can sit by the shore and enjoy the beautiful view of the crystal clear water.
Location: Kaala Patthar, Havelock islands, Andaman
26. North Bay Island
In the list of most popular places in Andaman, North Bay island stands to be one of them. This is a magnet for the beach loves and this is the reason people make sure to visit this island close to Port Blair. This island is also known as the Coral Island which is a major attraction in Andaman and attracts people from around the world. Boasting the vibrant surroundings adorned by the crystal blue water and lush-greenery which is also home to some colorful fishes. Apart from taking a glimpse of the beautiful surroundings, there are activities like snorkeling, jet skiing, speedboat and scuba diving.
Location: North of Port Blair, 15-20 minutes ride
27. Corbyn's Cove Beach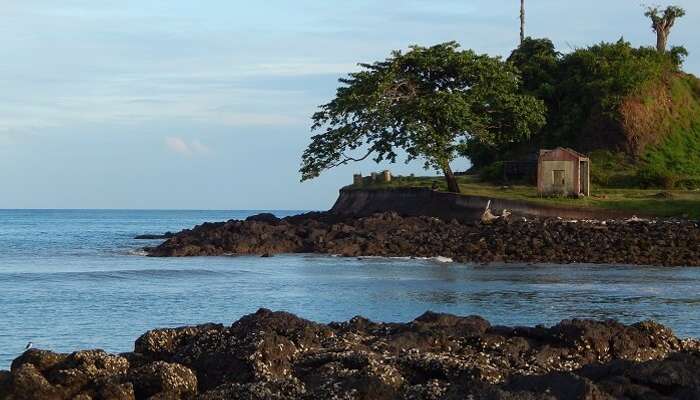 With the silver beaches covering a vast region and the blue waters and palm trees complementing the landscape, Corbyn's Cove looks just like a painted picture. This place comes in the list of one of the most beautiful places to visit in Andaman and an ideal location for honeymoon. Not just the pristine landscapes will soothe your eyes, but apart from that there are some adventure activities like scuba diving and surfing which makes the vacation a memorable one.
Location: 7 Km from the main town of Port Blair
28. Limestone Caves
If you love exploring the caves and also discover the mysteries behind that, then the Limestone caves at Baratang island is a place one should visit. These limestone caves are actually massive sediment rocks which forms a beautiful natural marvel to witness in Andaman. This is one of the best places to see in Andaman. The caves are dark and dull inside and people have to carry a light to enter these openings.
Location: Baratang Island, Andaman
29. Mud Volcanoes
Andaman is not just about the azzure beaches, but there is another thing which fascinates the travelers more than that. The mud volcanoes in Diglipur is one of the unexplored places in Andaman covered up with thick backwoods of North Andaman. This is a natural wonder which is surrounded by the marvelous craters formed by the natural gas which is emitted by the underground decayed substances.
Location: Diglipur, Andaman
30. Red Skin Island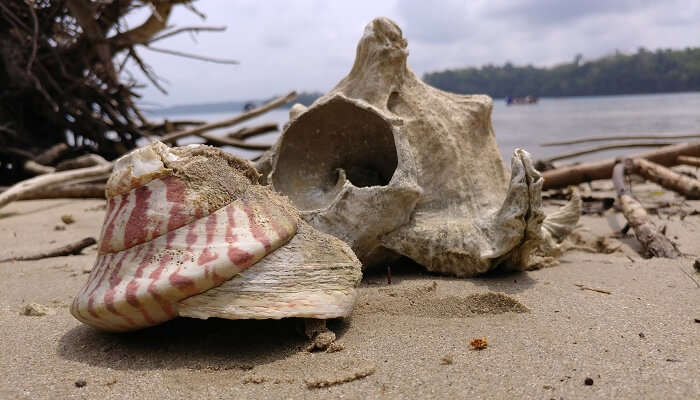 There is more than one reason to visit Andaman when you're planning an unusual fun vacation. While the beaches are definitely the best part of this island territory, there is the Red Skin Island which is famous worldwide for different reasons. It has an extraordinary elegance which completely leaves the travelers in condition of daze. SItuated within the borders of the Marine National Park, this island has a lot of beautiful sights to gaze.
Location: Red Skin Island is just 18.2 kms from Port Blair
31. Little Andaman Island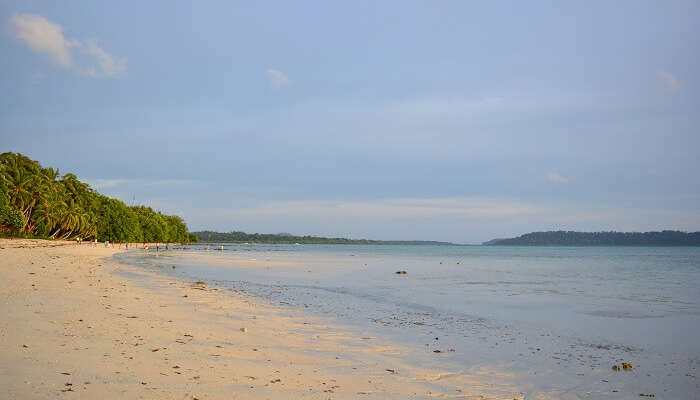 There are many islands in Andaman and one of them is Little Andaman. It is located near Rutland island. It offers beautiful views and is a great place for island hopping. It is home to beaches like Kalapathar beach and Butler bay beach. You can spend a good time at the beaches.
32. Barren Island Volcano
If you want to see something unique and heart-throbbing at the same time, then head to Barren island. There is an active volcano there! The island is located at a distance of 35 km from the city of Port Blair. It is also known as one of the best destinations for scuba diving in Andaman. So, make sure you add this place to your list.
Tip: Try to reach the island as early as possible as it takes 5 hours to reach and it is entirely safe to visit it.
33. Wandoor Beach
Wandoor beach is one of the most famous and beautiful destinations in India. The beach offers picturesque views and will leave you spellbound like never before. It is a part of Mahatma Gandhi Marine National park. It is a good place to go swimming.
34. Rutland Island
If you are looking for peace and serenity while visiting Andaman, then there can be no better place than this. Rutland island is located in isolation and thus provides the perfect me-time. The beaches of this island are also untouched and unspoilt, so you will get some extra fun of sunbathing at its beaches.
Location: South Andaman
35. Saddle Peak National Park
One of the best national parks in Andaman is Saddle Peak national park. It is located quite far from anybody's reach so it is a safe place for the animals. It offers a lot of birds and animals. Animal lovers should definitely visit this place. It is also a good place for family and kids.
Where To Stay In Andaman
There are a plethora of hotels and resorts that offer a comfortable stay at Andaman. Wind away in this luxurious island resort and pamper yourself at one of these hotels offering a delightfully peaceful experience.
1. Barefoot At Havelock
Breathtaking location, spacious rooms overlooking the sea and unspoilt nature around. Pristine beaches, beautiful cottages and no city bustles, Barefoot Jungle resort is a heavenly resort for those in search of a peaceful holiday. So, make sure you don't miss out on some of the great experiences and stay at a relaxing resort like this one.
2. Fortune Resort Bay Island
For a wonderful stay, book Fortune Resort Bay Island in advance. The gorgeous colonial architecture, white wood, layered wood artifices and the restaurant overlooking the sea will surely mesmerize you. If this doesn't entice you already then we bet the stunning views from this resort will surely do! Make sure you check out this property while considering your stay in Andaman at a place which covers all the aspects for a perfect and soothing stay!
3. Sinclairs Bay View
Wake up to the sound of the waves and view the sunset at its horizon from this beautiful resort located in Port Blair. With lots of activities to opt for within the premises, a private beach and easy accessibility to the city, Sinclairs Bay View makes a perfect choice for an amazing stay in Andaman. Are you ready to stay at an enticing combo like a resort with your friends and family just yet?
These are the top places to visit in Andaman. What are you waiting for? It's time you leave for the hidden jewel in the Indian Ocean and get mesmerized by the charms of this chimeric island. Plan a trip to Andaman for a charming holiday experience with your loved ones like never before! Have been there already? Share with us your memorable moments from the islands and inspire others!